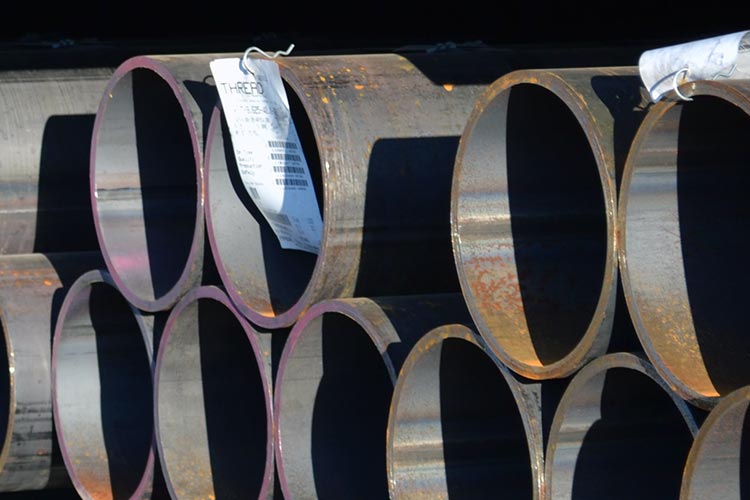 Standard Terms & Conditions of Sale
PRIORITY OF TERMS: All terms of this Quotation shall prevail over terms imposed by buyer on the transaction by purchase order or otherwise unless buyer, within five days after the receipt hereof, shall notify Seller in writing of his objections to the terms of purchase imposed herein.
PRICES: All prices for products are subject to withdrawal prior to seller's confirmation of buyer's order. Unless otherwise stated by Seller, prices, terms of payment and pricing policies will be those set forth in Seller's published price list or Seller's pricing policies in effect at the time of shipment. Specially ordered goods are not subject to cancellation without the consent of the Seller.
CREDIT APPROVAL: All sales and shipments are subject at all times to credit approval by Seller.
TAXES: Any taxes which Seller may be required to pay or collect upon the sale, delivery, storage, processing, use or consumption of any of the products covered hereby shall be for the account of buyer who shall promptly pay the amount thereof to Seller upon demand.
DELIVERY: All delivery of goods shall be FOB original point of shipment from which the risk of loss and the cost of transportation shall be borne by buyer despite the fact that Seller may arrange transportation on buyer's behalf. Seller shall be excused from delivering if buyer's designated point of delivery is inaccessible due to impassable conditions at buyer's delivery point. In the event buyer's designated point of delivery is unattended; Seller may make delivery to said point at the risk of buyer.
WARRANTY: The Seller warrants the products manufactured, processed or assembled by it to be free from defects in material and workmanship for a period of 90 Days from the date of shipment by it. The Seller shall not be responsible for any damage resulting to or caused by its products by reason of improper storage or installation; unauthorized service, alteration of products, neglect or abuse; or attempt to use its products for other than their customary usage or operate its products, intentionally or otherwise, at other than design specification or rated capacity. Claims for defects in material and workmanship as covered by this warranty shall be made in writing to Seller within ten days of the discovery of defect. Seller may either send a service representative or have the product returned to Seller at buyer's expense for inspection. Seller makes no warranty as to goods or equipment not manufactured, processed or assembled by it. However, Seller's warranty herein shall not limit any warranties by the manufacturer, which are available to the Purchaser. Seller makes no warranty regarding manila or wire rope or the sale of secondhand material (including pipe) or mill reject, limited service, non-API or substandard tubular goods. This disclaimer of warranty shall apply despite any testing or inspection by seller. Such material is sold subject to buyer's inspection and judgment and is sold in AS IS condition and usage thereof is done at buyer's sole risk. THE FOREGOING WARRANTIES ARE IN LIEU OF ALL OTHER WARRANTIES AND NO REPRESENTATION, GUARANTIES, OR WARRANTIES, EXPRESSED OR IMPLIED, (INCLUDING, BUT NOT LIMITED TO A WARRANTY OF MERCHANTABILITY OR FITNESS FOR A PARTICULAR PURPOSE), ARE MADE BY SELLER IN CONNECTION WITH THE MANUFACTURE OR SALE OF GOODS OR MATERIAL. NO EMPLOYEE, DISTRIBUTOR, OR REPRESENTATIVE IS AUTHORIZED TO CHANGE THIS WARRANTY IN ANY WAY OR GRANT ANY OTHER WARRANTY ON BEHALF OF SELLER. THE REMEDIES OF BUYER SET FORTH HEREIN ARE EXCLUSIVE AND ARE IN LIEU OF ALL OTHER REMEDIES. THE LIABILITY OF SELLER WHETHER IN CONTRACT, TORT, UNDER ANY WARRANTY, OR OTHERWISE SHALL NOT EXTEND BEYOND ITS OBLIGATION TO REPAIR OR REPLACE, AT ITS OPTION, ANY PRODUCT OR PART FOUND BY SELLER FOR WHICH SELLER IS DETERMINED TO BE RESPONSIBLE. SELLER SHALL NOT BE LIABLE FOR COST OF REMOVAL AND INSTALLATION OR BE RESPONSIBLE FOR DIRECT, INDIRECT, SPECIAL OR CONSEQUENTIAL DAMAGES OF ANY NATURE.
PERFORMANCE: Seller shall not be held responsible for any delay in performance of any contract made on the basis of this document resulting in whole or in part from or made impossible or impracticable by any cause beyond the control of Seller, including, but not limited to, fire, explosion, accident, breakdown, strike, adverse weather conditions, failure or refusal of any carrier to transport materials, delay in transport thereof, failure of any source of supply to honor orders within time periods customarily or heretofore experienced by Seller in the trade, shortage or lack of material, fuel, power, transportation media, sale of transfer of manufacturing facilities, embargo or any act of God or action or request of any governmental authority, failure or refusal of any carrier or contractor of any contingency or delay or failure or cause beyond Seller's control.
FINANCE CHARGE: A charge of 1-1/2 percent per month (18 annual percentage rate) shall be charged on all past due amounts or to the maximum extent provided by applicable state or federal law, whichever is greater. Buyer shall likewise pay all reasonable attorney's fees for collection where permitted by applicable law.
RETURNS: Return material will be subject to prior approval. All return material must be in resalable condition-undamaged and in standard inventory packages, where applicable. All return material will be subject to a restocking charge with credit based on price in effect at time of original sale.
TRADE DISCOUNTS: Sales tax, secondhand goods, transportation, and labor or goods or services rendered by Third Parties are not subject to discounts for cash. Cash discounts shall be allowed only within the discount period as specified. All invoices due by the 10th of the month following purchase.
LEASE REPRESENTATIONS: Buyer warrants and represents that the goods sold are to be used in project denoted as "lease". Buyer agrees to notify Seller in the event of change in writing within five days.